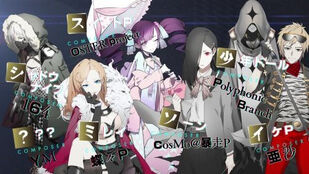 The Ostinato Musicians are a group of individuals within Mobius who act μ's bodyguards. They serve as The Caligula Effect's main antagonists.
History
The exact known time of when the Ostinato Musicians were founded is unknown, but they were established when Thorn, the group's leader, suggested to μ that she should make a group that would both protect her and compose songs for her whilst also acting as her own personal task force. μ agreed with this idea and chose six individuals from Mobius, each of whom was aware of Mobius' nature. Unlike the members of the Go-Home Club, they do not wish to return to the real world for various reasons, namely in part for μ promising to grant their utmost wish.
In truth, the Ostinato Musicians were meant to be used as tools by Thorn by filling μ with negative energy through their concert performances, which would make her more compliant to her wish to destroy reality.
Members
Caligula
Caligula Overdose
Lucid: The newest member of the Ostinato Musicians. They serve as the double agent of the Musicians, spying on the Go-Home Club.
Kuchinashi: One of the Ostinato's more listless-looking members. She is one of the more social people of the group and surprisingly easy to talk to, and uses a special device to synthesize a voice rather than using her natural one.
Stork: A good-natured Musician who's songs are very popular with the women of Mobius. However, due to his perverted tendencies, he is met with very little respect.
Trivia
A few members serve as foils to members of the Go-Home Club:

Mirei and Kotono. Both can be considered the most beautiful members of their respective groups, but whereas Kotono is very gentle and kind, the former is cruel and selfish.
Izuru and Ike-P. Izuru couldn't care less about his so-called popularity and Ike-P revels in the attention he receives.
Kotaro and Shadow Knife. The latter is more extreme and targeted the people who bullied him in real life, wheras Kotaro resolved to fight his bullies head-on without fear.
The protagonist and Lucid, ironically enough. Lucid betrays the group after gaining their trust for being unable to maintain a resolve to return to the real world because of their trauma, whereas the protagonist stands by them and having the resolve to face their trauma.