Introduction

Welcome to the Caligula Wiki!
2,721 edits made, 62 articles created and 624 images uploaded since January, 2017.
Please note that articles may contain unmarked spoilers!
The Caligula Effect is a role-playing game for the PlayStation Vita.
It is developed by Aquria and published by FuRyu in Japan and Atlus in America and Europe.
This wiki is still under construction. Everybody is welcome to edit!
Content
Characters
Helping Out
Want to help out Caligula Wiki?
Featured Media
Promotional art of The Caligula Effect.
Featured Article
This time's featured article is Caligula Original Soundtrack. Suggest a featured article!
---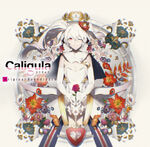 Caligula Original Soundtrack (-カリギュラ- オリジナルサウンドトラック) is the soundtrack album for The Caligula Effect.
The album features a total of 55 tracks on over 2 discs.
Visit the Caligula Original Soundtrack page to for more information.
Poll
Do you plan on buying the game?
A new poll will appear from time to time. Previous polls.
This wiki is not affiliated with nor endorsed by Aquria, FuRyu and Atlus in any way.
Licensed material usedon this site qualifies under
fair use
. All trademarks go to their respective owners.
Community content is available under
CC-BY-SA
unless otherwise noted.